Following the overwhelming success of the SUR/FIN Asia-Pacific, held in Singapore in 2012 and 2014, by popular demand a third SUR/FIN Asia-Pacific Exhibition and Conference will be held at Biopolis in Singapore in the period December 6th- 8th 2016
SUR/FIN Asia-Pacific is the only Southeast Asia event dedicated to the Surface Finishing, Surface Engineering, Surface Coating, Electroplating and Precision Engineering covering the full spectrum of industries located in Southeast Asia.
Technical Conference Programme

Wednesday 7th December 2016

8:00

8:45

Conference Registration

Biopolis (Level 4)

CONFERENCE OPENING

Session Chair : Stewart Hemsley

8:45

9:00

Delegates please all be seated as we will begin on time at 09:00am.

9:00

9:10

Mr C P Kam

Welcome address

SSEA President

9:10

10:00

Mr Christian Richter

Keynote Speaker

Surface Engineering opportunities in South East Asia as seen from a USA perspective, past, present and future

NASF The Policy Group (USA)

10:00

10:30

Mr Jim Walters

Optimising surface finishing productivity and service levels through supply chain transparency and integrated decision support planning

Valuechain.com Solutions Ltd

10:30

11:00

Mr Tony Evans

Innovation in Plant Design in an increasingly competitive world

PAL (HK) Ltd, Hong Kong

11:00

11:30

COFFEE BREAK

Session Chair : Steven Burling

11:30

11:55

Dr Priscilla Hong

Developments in Platinum Group Processes

Metalor Technologies Singapore Pte Ltd

11:55

12:20

Ms Jenny Wong

Developments in Acid Hard Gold Processes

Metalor Technologies Singapore Pte Ltd

12:20

12:45

Dr Lee Teck Kheng

Impacts of Au and Cu surface in wirebonding and reliability

ITE College Central

12:45

13:05

Dr Chang Jen Heng

Partitioned Electrolysis Technology for metal stripping and metal recovery

Envichem Technologies Pte Ltd

13:05

14:00

LUNCH

Session Chair : Dr Priscilla Hong

14:00

14:25

Dr Martin Gall

FED(up with)HEX

Columbia Chemicals, USA

14:25

14:50

Dr Natalyia E Nekrasova

Methyl Sulfonate Lead Plating Bath

Mendelev University Moscow Russia

14:50

15:15

Dr Sergey Kruglikov

Immersed Electrochemical Modules in Plating Shops: Areas of Application and Technical Efficiency.

Mendelev University Moscow Russia

15:15

15:40

Dr R. Gopala Krishnan

Design and Development of Thin-Film coating System

National University of Singapore

15:40

15:55

TEA BREAK

Technical Conference Programme (continued)

Wednesday 7th December 2016

Session Chair : Dr R Gopala Krishnan

15:55

16:20

Dr Jiang Jianping

New Development of Electroless Technology for Electronic Applications

Stella Chemicals

16:20

16:45

Dr Huang Zhaohong

Advanced oxidation processes for organic wastewater treatment

SIMTech

16:45

17:10

Dr Desmond TC Ang

Electrochemistry and science of lithium ion battery

On-time Engineering Consultant Singapore

17:10

17:35

Dr. Lim Zheng Bang

Novel Copper Multifunctional Protection Coatings

Singapore Polytechnic

18:00

Bus departs from Biopolis to Gala Dinner at Marina Mandarin Hotel

Thursday 8th December 2016

Delegates please arrive by 08:45am as we will begin on time at 08:55am.

Session Chair : Dr Qi Guojun

8:55

9:20

Mr C P Kam

Risis - A Surface Engineering Success Story

Risis Pte Ltd

9:20

9:45

Dr Dong Xuecheng

Paint Adhesion Mechanism on Anodized Al

SIMTech

9:45

10:10

Dr. Gregory K. L. Goh

Liquid phase deposition of functional oxide films

IMRE

10:10

10:30

COFFEE BREAK

Session Chair : Dr Qi Guojun

10:30

10:55

Dr Yan Hong

Nanostructured additive-enhanced high performance superhydrophobic coating materials

IMRE

10:55

11:20

Dr Wu Yongling

Nanocomposite coating for IR and UV shielding

SIMTech

11:20

11:45

Mr Connor Wong

ED-XRF Analytics of Multi-Layer Alloyed Metallic Coatings

Fischer Instrumentation (S) Pte Ltd

12:00

CONFERENCE ENDS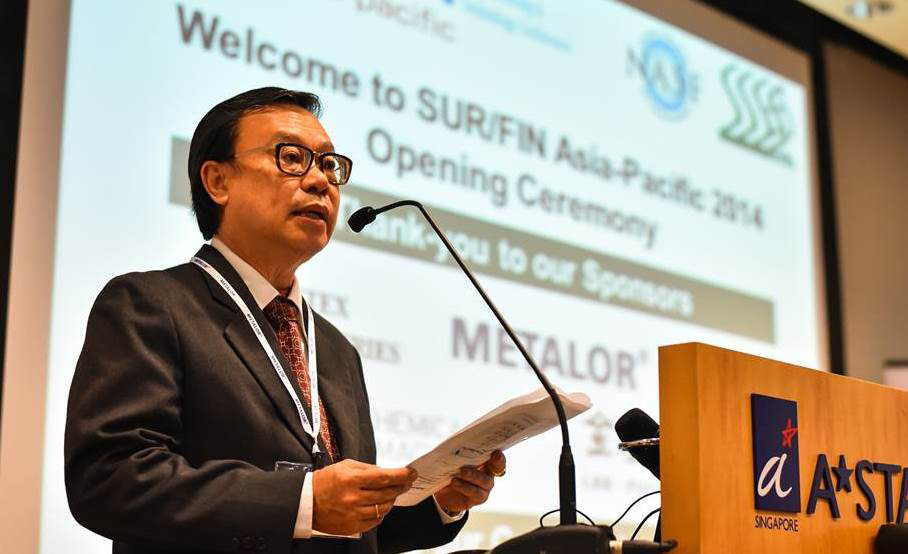 Presidents Message
Welcome all of you to our website and the coming SURFIN ASIA PACIFIC 2016 EXHIBITION & CONFERENCE to be held in Singapore at the Biopolis from 6th Dec to 8th Dec 2016.
This bi annual exhibition and conference is jointly organized by National Association for Surface Finishers (NASF) of USA and Singapore Surface Engineering Association (SSEA) with the support of National University of Singapore (NUS) , Singapore Institute of Manufacturing Technology (SIMTech) and other organisation.
We are indeed encouraged by the overwhelming success of the exhibitions and conferences held in 2012 and 2014, thank you for your support and we strongly recommend your participation in this upcoming 2016 event.
For companies who are planning to expand into the South East Asia Region, this is the right exhibition for you to showcase your products and services. Singapore is well placed to serve as your Headquarter to penetrate to the fast growing region. So decide as soon as possible and register for a booth because we have limit numbers and selling fast. We are also looking at sponsors for the event and we look forward to your generosity.
We are inviting technical papers to be presented at the conference and if you have any, please keep in touch with our relevant organizers. As a delegate, you can gain a lot of first hand knowledge by attending the exhibition and conference. So start registering now.
All the information regarding the exhibition and conference is at your fingertips and just go to our website at www.aseansurfin.org and you are on your way to a fruitful exhibition and conference right here in YourSingapore!
Mr C P Kam
President
Singapore Surface Engineering Association
| Position | Name | Affiliation |
| --- | --- | --- |
| SSEA President | Mr C P Kam | Risis |
| Technical Advisor & Chair | Stewart Hemsley | Metalor Technologies |
| Co-Chair | Dr Qi Guojun | SimTech |
| Co-Chair | Dr R. Gopal Krishnan | NUS |
| Co-Chair | Mr Seunghyun Park | Avery Dennison |
| Co-Chair | Ms Priscilla Hong | Metalor |
Venue
30 Biopolis St, Matrix, Singapore 138671
Driving Direction
Why Participate?
As a focal point for Southeast Asia Singapore attracts attendees from the entire region including Singapore, Malaysia, Vietnam, Thailand, Cambodia, Indonesia, India, Philippines, Myanmar and Laos. SUR/FIN Asia-Pacific 2012 attracted delegates and participants from 34 different countries worldwide.
This finishing focussed event will attract attendees from the world`s leading surface finishing companies looking for solutions that will help them successfully create and deliver their products to market.
Because Singapore plays a strong role in the trade architecture of Southeast Asia, customer enquiries and follow up visits can be made easily and cost effectively, with the right people, both before and after the event.
Extensive networking opportunities will provide you maximum exposure to many potential customers. The accompanying technical conference will attract speakers, leading industrial and academic leaders as both speakers and delegates.
Exhibitors and attendees alike will be able to choose from a key selection of training workshops and courses designed to upgrade their knowledge and skills thereby maximising their ROI. For additional exposure, exclusive sponsorship opportunities will be provided to widen participants` market exposure and create awareness of new product innovations.
Schedules
Date

Event

Tuesday December 6th 2016

Education Courses

Wednesday and Thursday

December 7th-8th 2016

Table Top Presentation

Wednesday December 7th 2016

Conference Gala Dinner

Wednesday and Thursday

December 7th-8th 2016

Technical Conference