THE LAUNCH OF SURFACE ENGINEERING FOR RESEARCH & INDUSTRIAL APPLICATIONS (SERIA) 2017
Welcome to the inaugural Surface Engineering for Research & Industrial Applications (SERIA) Technical Symposium 2017 organised by Singapore Surface Engineering Association (SSEA) & Sphere Exhibits Pte Ltd that will co-located with the 4th edition of Manufacturing Solutions Expo (MSE) 2017.
Important Dates
Abstract Submission
18 Aug
Acceptance of Abstract
02 Sep
Full Paper Submission
26 Oct

CALL FOR PAPERS
Submit your Title and Abstract NOW!
Advances in Plating Technology
Plant and Equipment
Surface Engineering
Applications
Environment and Manageent
Testing and Characterisation

Read

here

for more details.

ABSTRACT SUBMISSION
DOWNLOAD FLYER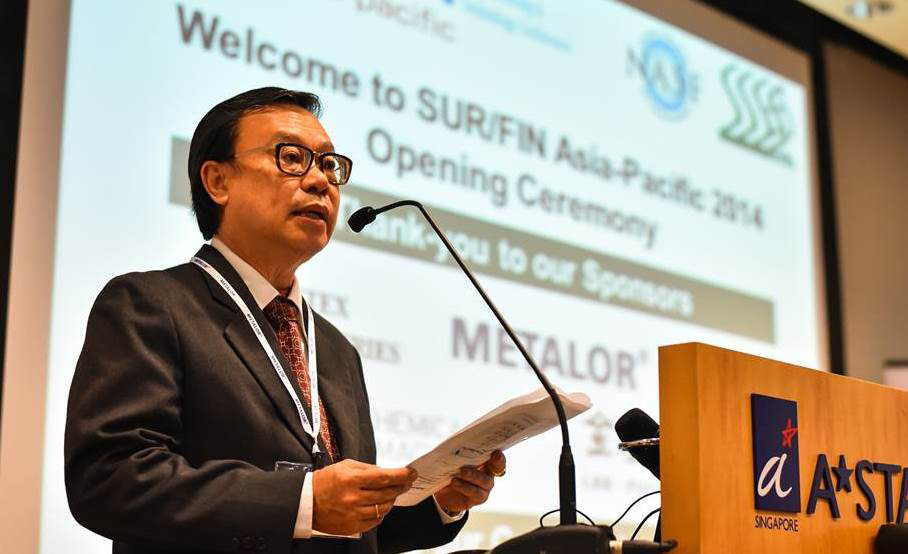 Dear Fellow Members & Industry Partners,

SSEA is pleased to take this opportunity to curate a technical symposium named "Surface Engineering for Research & Industrial Applications (SERIA) 2017" to complement MSE 2017. The 2-day Symposium will take place from 26 to 27 October 2017 and held alongside with MSE 2017 at Singapore EXPO, Hall 4A.

I join with Dr. Gopala Krishnan, the chair of organising committee, sincerely invite fellow members and industry partners to visit Singapore this October; seize this golden opportunity to meet and network with suitable vendors and gain valuable insights from the Symposium and Exhibition. As the disruptive technology is now the key challenge to overcome, I believe that companies are looking out for possible partnership both locally and regionally to stay competitive, exceeding their business goals.

Therefore it is appropriate for Singapore to host such a thematic and dedicated event for the surface engineering arena. With the experts from many countries, we can share our experience on the future trends and technology that is changing the landscape of the surface engineering industries for mutual progress and benefit.

If you have technical paper to present, showcase your advanced technology and techniques or attend as a delegate, we welcome you to submit your abstract(s) and requests to the organiser directly.

Do look out for more updates on the websites at www.aseansurfin.org or www.ms-expo.com.

Hereby, I look forward to welcoming you at SERIA 2017!

Mr Kam C P
President
Singapore Surface Engineering Association

Dr Gopala Krishnan
Physics, National University of Singapore
General Chair, SERIA 2017 Organising Committee
_____________________________________________________________________________
Co-located Event:
25 - 27 October 2017
Singapore EXPO, Hall 4AMSE 2017
is positioned as one of the MUST attend trade exhibtions in the ASEAN region, focusing on the key manufacturing technological advancements leading towards the
Future of Manufacturing
to improve business productivity and efficiency within and beyond manufacturing industries.
BE INVOLVED and PARTICIPATE at the Surface Engineering Pavilion!
3-day Exhibition featuring Surface Engineering Solutions to Local & Overseas Quality Trade Visitors
Speaking Opportunity at ManuTech Xchange where more than 1,000 attendees attended in MSE 2016
Business Match Making and Networking Opportunities
Join the Singapore Pavilion - Enjoy up to 50% reimbursement* for Singapore registered companies

*Terms and conditions apply

If you are presenting solutions stated below, we would like your presence at MSE 2017. Be part of the programme to grow your business
outreach via MSE platforms.

| Position | Name | Affiliation |
| --- | --- | --- |
| SSEA President | Mr C P Kam | Risis |
| Technical Advisor & Chair | Stewart Hemsley | Metalor Technologies |
| Co-Chair | Mr Alex Wong | Fintex Industries Pte Ltd |
| Co-Chair | Mr. Vincent Wong | Surface Finishing Technologies Pte Ltd |
| | Dr. Yin Xi Jiang | Singapore Polytechnic |
| Co-Chair | Dr Qi Guojun | SimTech |
| Co-Chair | Dr R. Gopal Krishnan | NUS |
| Co-Chair | Alan Kum | Chemical & Machinery Pte Ltd |
| Co-Chair | Ms Priscilla Hong | Metalor |
| Co-Chair | Mr. Liu Fengmin | SimTech |
| Co-Chair | Dr. Mehrdad Zarinejed | SimTech |
| Co-Chair | Dr. Sanjay Kumar Thakur | SimTech |
| Co-Chair | Dr. Huang Zhao Hong | SimTech |
| Co-Chair | Mr. Ng Boon Chuan | SimTech |
International Advisory Board
| Name | Affiliation |
| --- | --- |
| Mr. Steven Burling | Metalor Technologies |
| Mr. Ma-Jie | China Surface Engineering Association |
| Mr Alex Wong | Fintex Industries Pte Ltd |
| Prof. Yum HT | Korea Institute of Surface Engineering |
| Mr. Stewart Hemsley | SSEA Honorary Technical Adviser |
| Mr. Christian Richter | National Association of Surface Finishers |
| Prof. Fang JL | Retired |
| Prof. Lin An | China Surface Engineering Association |
| Prof. Sergey Kruglikov | Mendelev University |
| Dr. T Sridhar | University of Madras |
| Mr. Clive M Whittington | Australasian Institute of Surface Finishing |
| | |
Venue
1 Expo Dr, Singapore 486150
Driving Direction